Modifica PS3 CFW 4.50 DOWNLOAD e GUIDA
Ecco la modifica per PLYASTATION 3 con Custom Firmware ROGERO 4.50.
Grazie a questa modifica potrete:
Giocare agli ultimi giochi (per esempio GTA V, The last of Us, etc) senza bisogno di modificare l'EBOOT
Caricare i giochi direttamente su hard disk esterno FAT 32  (Non sai come formattare in fat 32? CLICCA QUI)
Giocare Online (

ATTENZIONE

! poichè sony costantemente aggiorna le sue protezioni, vi invitiamo a tenervi informati su ExtremeGeneration.it per essere sempre aggiornati su come non farsi bannare dall'online)
INIZIAMO!!
REQUISITI:
Normalissima pendrive USB formattata in FAT32
E' necessario avere una PLAYSTATION 3 con firmware orginale ofw 3.55, OPPURE, un qualsiasi custom firmware 3.55 o superiore. Se non possedete questi requisiti dovete procedere con una modifica hardware. Trovate su ExtremeGeneration.it i suggerimenti e le guide al riguardo.
Download di MULTIMAN (ultima versione)  e cfw 4.50 ROGERO (v1.01). Puoi scaricare i file qui:
DOWNLOAD
DOWNLOAD MULTIMAN (controlla sempre ExtremeGeneration.it per avere l'ultima versione disponibile)
Ora che hai scaricato i files, inserisci la tua chiave e segui le seguenti istruzioni
Crea un nuova cartella e chiamala PS3
Crea una cartella all'interno di PS3 e chiamala UPDATE
Inserisci all'interno della cartella UPDATE il file del cfw4.0 rogero e RINOMINALO PS3UPDAT.PUP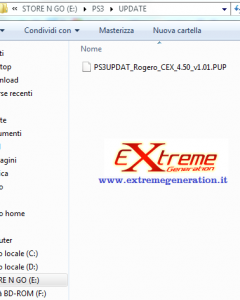 4. Nella ROOT della chiavetta inserisci il file .pkg di Multiman, alla fine dovresti ritrovarti questo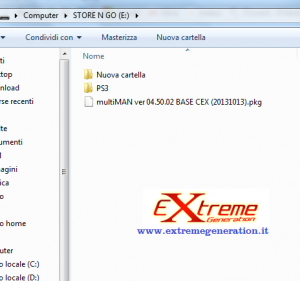 INSTALLAZIONE CUSTOM FIRMWARE 4.5 ROGERO
Dopo aver inserito la chiave USB con al suo interno i file scaricati, andate nel menù impostazioni della vostra PSE3 e selezionate AGGIORNAMENTO DI SISTEMA, e fate aggiorna tramite supporti di memorizzazione
N.B. Tenete sempre disattivata la connessione ad internet
INSTALLAZIONE MULTIMAN
Lasciate sempre inserita la vostra chiave USB e andate nel menu GIOCO, ora troverete la cartella INSTALL PACKAGE FILE, selezionatela e al suo interno troverete tutti i file .pkg salvati nella root del dispositivo USB. Nel nostro caso, troviamo la versione di Multiman che avete scaricato prima.
Avviate l'installazione ed in pochi secondi avrete MULTIMAN sulla vostra PS3, e potrete iniziare a trasferire i GIOCHI tramite FTP (file transfer protocol), oppure utilizzare il vostro HARD DISK esterno.
COME INSERIRE I GIOCHI SU HARD DISK ESTERNO
Per inserire i giochi sul vostro hard disk esterno formattato in FAT32 (se non sapete come formattare in fat32 cliccate qui) dovete semplicemente creare una cartella GAMES ed inserire i giochi al suo interno
Ad esempio GAMES/BLES-01807
N.B. La cartella del gioco deve presentare una sintassi di questo tipo BLES-01807 , e non, per esempio GTA 5. Altrimenti la vostra PlayStation non riconoscerà il gioco!!!
Da questo momento non connettere la PS3 a internet direttamente!!
LINK UTILI: